Hello, my lovelies! I am back with a super exciting announcement, as well as a cover reveal: My awesome publisher, Snowy Wings, is releasing a YA Fairy Tale Anthology, Magic at Midnight! My short story is a retelling of Hans Christian Andersen's tale, "The Goblin and the Grocer." Here is the synopsis:
"In a little village high in the mountains, mortals and goblins have lived together for centuries. Yet with the passing generations, mortals have become blind to the goblins and their magic, even when it's right in front of them.
Greta, a young goblin, doesn't mind this. She's found that magic has made her kind lethargic and mean-spirited, using their powers to play cruel jokes on unsuspecting mortals. Greta refuses to use her magic, preferring to work in the humble store of a grocer and his wife and enjoy the satisfaction of a hard day's work. She is quite happy spending her days in the store and her nights in one of the rooms above with her talkative kitten, Calla.
Her peaceful life is disrupted the day the grocer's great-nephew, Magnus, moves into the spare room down the hall. Magnus doesn't act like his kindly and hardworking aunt and uncle at all; to Greta, he's lackadaisical, immature and selfish. When not doing his schoolwork, he wastes his days painting rather than helping in his uncle's store.
Greta wants nothing to do with Magnus… until she sees his paintings, and feels an inspiration she long forgot was there. As she spends more time with the handsome student, she finds herself questioning everything she thought she knew… and wondering if magic—and love—may be all around her."
Now, onto the cover reveal!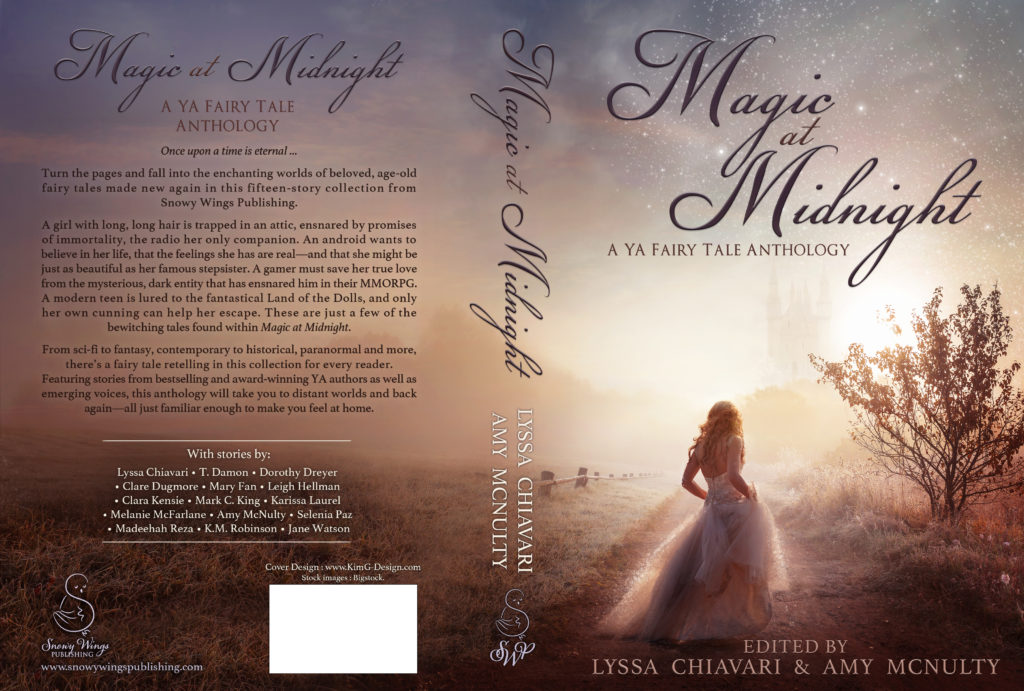 Title: Magic at Midnight
Publisher: Snowy Wings Publishing
Cover Designer: KimG Design
Release Date: May 29th, 2018
Once upon a time is eternal…
Turn the pages and fall into the enchanting worlds of beloved, age-old fairy tales made new again in this fifteen-story collection from Snowy Wings Publishing.
A girl with long, long hair is trapped in an attic, ensnared by promises of immortality, the radio her only companion. An android wants to believe in her life, that the feelings she has are real—and that she might be just as beautiful as her famous stepsister. A gamer must save her true love from the mysterious, dark entity that has ensnared him in their MMORPG. A modern teen is lured to the fantastical Land of the Dolls, and only her own cunning can help her escape. These are just a few of the bewitching tales found within Magic at Midnight.
From sci-fi to fantasy, contemporary to historical, paranormal and more, there's a fairy tale retelling in this collection for every reader. Featuring stories from bestselling and award-winning YA authors as well as emerging voices, this anthology will take you to distant worlds and back again—all just familiar enough to make you feel at home.
What do you think of the cover? Are you excited for all of the amazing stories? Let me know in the comments!