A YA Anthology of Greek Myth Retellings
Aphrodite. Zeus. Medusa. Hercules. You've heard their names. You thought you knew their stories… until now.
Lose yourself in this collection of eleven young adult re-imaginings of Greek myths from the authors of Snowy Wings Publishing. From magical kingdoms under the sea to the halls of a modern high school, from Ancient Greece to the distant future, you will find romance, courage, fantasy, danger, and more. With each story bringing a twist on a classic legend, there is something for everyone to enjoy again and again.
Across the ages, the Muses call: SING, GODDESS!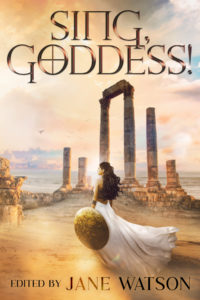 Available now from Snowy Wings Publishing
Inside the Stories
"Like Mars and Venus," a retelling of the myth of ARES AND APHRODITE, by Jane Watson, author of The Taming of the Dudebro
Alexandria "Lexi" Cypress is trying to enjoy her senior year and make sure her school has the best Homecoming ever. She may be the new girl at Mountainview High, but she is keeping busy with the cheerleading team, Homecoming Committee, and new friends. While she is the go-to girl for her fellow classmates' romantic woes, she sees no romance in her own future as she's been burned by love before. To her surprise, both Aidan Shields, captain of the Spartan's football team and resident hottie (and supposed resident flirt), and a mystery admirer are soon vying for her attention. Can Lexi learn to open up her heart, and will she survive Homecoming?

"The Real Prize," a retelling of the myth of ATALANTA, by Amy Bearce, author of the World of Aluvia series
Atalanta is a princess of the merfolk who would rather be a warrior than royalty. When her father, the king, tells her it's time to marry, she agrees to a contest, the winner of which will be her groom. Then she craftily designs a race in which she knows no merman could beat her—in fact, they could die trying. But the risk doesn't stop three determined young mermen from signing up, one of whom has some clever plans of his own.
"Light in the Darkness," a retelling of the myth of ARTEMIS, by Selenia Paz, author of the Leyendas Trilogy
Having retreated to the deepest parts of the woods, Artemis is happy simply living in solitude with her dog, surrounded by nature. She tries not to think of the family of gods she left behind, of her father Zeus, or of the reputation that comes with being the goddess of the hunt. But it seems the Fates have a different plan in mind, and not even the woods will be able to keep her from this path—or help her forget who she truly is.
"Káto Kósmos," a retelling of the myth of HADES AND PERSEPHONE, by Janina Franck, author of A Spark in Space
Káto Kósmos is dying. Mira's only hope of saving her planet—and her people—is an android designed to nurture nature. But its theft does not go unnoticed and soon Mira is faced with an ultimatum: Return the android and let her planet die, or perish as an infuriated inventor sets his starfleet on her and her people.
"Slither," a retelling of the myth of MEDUSA, by Dorothy Dreyer, USA Today-bestselling author of the Empire of the Lotus series
After escaping a devastating attack by Stone Mirror Bay's most prominent VIP, snake enthusiast Meddie is given an enchanted necklace to protect her. But the powers unleashed from the necklace could prove to be deadly.
"Today's Gods," a retelling of the myth of ZEUS AND IO, by Sarah Dale, author of the Zodiac Cusp Kids series
River's best friend, Simon, convinces her to try out for the Spring Play, "Today's Gods." It's a student production, written by and starring the school's perfect, golden, power couple, Rhiannon and Dane. Rhiannon has modernized the tale of Zeus falling for Hera's priestess, Io. Of course Hera suspects, and so to hide his affair, Zeus turns Io into a beautiful, white cow. He sends her scurrying off across the countryside, dogged by Hera's minions, Argus of the 100 eyes and the biting, stinging Gadfly.
River is at first ecstatic to win the role, only to find herself trapped in a real life version of the play, pursued by Dane and harried by Rhiannon's friends. And if being batted about by a couple of sociopathic high school gods wasn't enough, River is also stressing out about her application to the exclusive Arts and Humanities focus program, and worrying about her dad, whose mission abroad has gone awry and he and his team have assumed radio silence.
But as they say, the play must go on.
"Last Call at the Rim of the Central Well," a retelling of the myth of ORPHEUS AND EURYDICE, by Leigh Hellman, author of Orbit
Two young men share a drink and a story in the neon shadows of Club Gaudia, a substreet bar in the seedy Six Rivers sector of the city. Dougal comes to the bar each night in search of his missing girlfriend and desperate for an audience with the club's mysterious owner, who he is sure is the key to understanding her disappearance. One fateful night he shares his tale with Kenrick, a curious stranger who begins to challenge what Dougal has come to believe is true—about the fractured relationship that he's still chasing and the girl who loved and left him. As he pleads his case for needing to know what really happened to The Mistress of Club Gaudia, he also must decide what his place in his own cracking narrative truly is.
"In Pursuit," a retelling of the myth of ORION AND SCORPIO, by Jessica Gunn, author of the Storm Warden Chronicles
Pheme is secretly the infamous Orion, hunter of supernaturals, and dedicated to the clandestine Midnight Order. Amara is a member of the Peacekeeper Task Force, code name Scorpio, and one of the best at what she does. The Peacekeepers want peace between humans and supernaturals. The Midnight Order wants rid of the dangerous supernaturals. Caught between their vows and families, Amara and Pheme enter into a deadly game of cat and mouse, with neither knowing their dangerous enemy is their closest friend. Will they put everything on the line for love?
"With Dark Truths Draw Me," a retelling of the myth of ARACHNE, by Mary Fan, author of Starswept
High-achieving Min Wong, a junior at the elite Olympus Prep, has one goal: get into one of the top three Ivy League universities. And she will do whatever it takes to stay on top. But after her classmate, the artistic Ara, dies by suicide, Min finds herself haunted by their former rivalry.
"Darken the Night," a retelling of the myth of NYX, by Amy McNulty, author of the Blood, Bloom, & Water series
Phoenyx "Nyx" Douglas feels like a damsel trapped away. Suffering from a form of light sensitivity, she sleeps during the day, missing out on all the typical things the other teens in her town do. One night when her flighty father is out on a job, she falls for charmer Erebus Jones at first sight but then has a dream about a child she's supposed to have with him in the future—and the peril that boy is in. With Ere's help, she uncovers what it will take to save their future child: blackmailing the powerful town mayor and teaching him to fear her. The two teens are in over their heads as they uncover shocking secrets and cross the line between what's right and what's wrong—all in service of saving a child they can only have if their burgeoning relationship survives the danger they put themselves in.
"Feathers on the Wind," a retelling of the myth of ICARUS, by Lyssa Chiavari, author of the Iamos Trilogy
Nicothoë is cursed. The daughter of a demigoddess changed by Hera's wrath into a harpy, Nico has lived her whole life conscripted into the service of the gods and believing she is a monster. But everything changes when she meets Icarus, a boy who is desperate to free his father from the persecution of King Minos. Through their quest to liberate the unjustly imprisoned inventor, Nicothoë just may find freedom herself—but at what cost?
---
Content Warnings
"Slither" by Dorothy Dreyer—depiction of sexual assault
"With Dark Truths Draw Me" by Mary Fan—depiction of suicide