The Dudebro Series
An ongoing YA/NA hybrid series featuring Patricia Verona, her best friend Grizz, and the incorrigible Minola brothers. The first two books in the series are available now from Snowy Wings Publishing!
The Taming of the Dudebro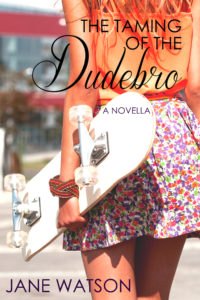 Patricia's dream is coming true: she is directing her own play, a one-act written by her best friend, Grizz, for the school's annual Drama Festival. Everything seems to be perfect until her teacher assigns Kurt Minola, the biggest jerk in the school, to work on her play. Kurt is lazy, selfish and irresponsible. The only good thing about him is his attractive twin brother, Ben—but even he can't seem to change Kurt's attitude. Kurt's presence turns Patricia's dream into a nightmare… until Patricia and Grizz decide to take matters into their own hands, and subject this insufferable surfer-dude to some taming.
A Midsummer Night's Dudebro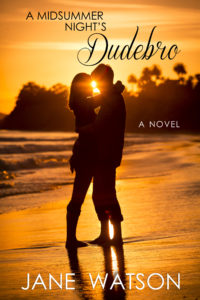 With the theater festival behind her and graduation around the corner, Grizz Sheridan figured she was done with Kurt Minola. She wants to focus on spending time with her friends and enjoying her last summer before she goes off to college.
No such luck now that Kurt's crushing on her best friend (and his twin brother's girlfriend), Patricia. It seems like he's glued to her side no matter where she goes—class, parties, even Prom.
Grizz thinks her luck is changing when she begins working at Merry Mule Coffee Roasters and meets super hottie, Dimitri. That is, until a certain surfer boy starts working there, too—and suddenly seems to have turned his romantic interests elsewhere…
Will Grizz survive the summer?
The Taming of the Dudebro & A Midsummer Night's Dudebro are now available in a two-book omnibus!
Get it now on Amazon—available to check out for free in Kindle Unlimited!
Short Stories/Anthologies
Like Mars and Venus
Alexandria "Lexi" Cypress is trying to enjoy her senior year and make sure her school has the best Homecoming ever. She may be the new girl at Mountainview High, but she is keeping busy with the cheerleading team, Homecoming Committee, and new friends. While she is the go-to girl for her fellow classmates' romantic woes, she sees no romance in her own future as she's been burned by love before. To her surprise, both Aidan Shields, captain of the Spartan's football team and resident hottie (and supposed resident flirt), and a mystery admirer are soon vying for her attention. Can Lexi learn to open up her heart, and will she survive Homecoming?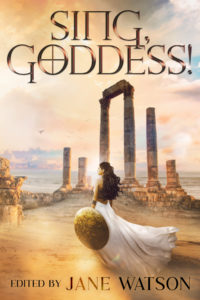 "Like Mars and Venus" is available in Sing, Goddess! A YA Anthology of Greek Myth Retellings, which I edited!
Magic by the Cup
Witch Melissa has always loved the mortal world—so much so that when she had the opportunity to attend high school and work at a local coffee shop there called the Beanery, she jumped at the chance. Her happiness is short-lived, however, when an unscrupulous developer announces plans to tear down the historic building the Beanery is housed in, which, unbeknownst to the mortals, is home to the portal to the Magical Realm. Will Melissa, her wood nymph friend and her cute mortal co-worker be able to stop him in time?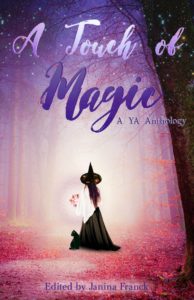 "Magic by the Cup" is available in the anthology A Touch of Magic, edited by Janina Franck.
Magic All Around
In a little village high in the mountains, mortals and goblins have lived together for centuries. Yet with the passing generations, mortals have become blind to the goblins and their magic, even when it's right in front of them.
Greta, a young goblin, doesn't mind this. She's found that magic has made her kind lethargic and mean-spirited, using their powers to play cruel jokes on unsuspecting mortals. Greta refuses to use her magic, preferring to work in the humble store of a grocer and his wife and enjoy the satisfaction of a hard day's work. She is quite happy spending her days in the store and her nights in one of the rooms above with her talkative kitten, Calla.
Her peaceful life is disrupted the day the grocer's great-nephew, Magnus, moves into the spare room down the hall. Magnus doesn't act like his kindly and hardworking aunt and uncle at all; to Greta, he's lackadaisical, immature and selfish. When not doing his schoolwork, he wastes his days painting rather than helping in his uncle's store.
Greta wants nothing to do with Magnus… until she sees his paintings, and feels an inspiration she long forgot was there. As she spends more time with the handsome student, she finds herself questioning everything she thought she knew… and wondering if magic—and love—may be all around her.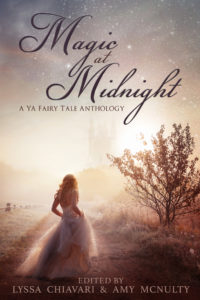 "Magic All Around" is available in the anthology Magic at Midnight, edited by Lyssa Chiavari and Amy McNulty.
---
Perchance to Dream
The Taming of the Dudebro was originally published in 2015 in Perchance to Dream, a YA collection of Shakespeare retellings edited by Lyssa Chiavari. The ebook of Perchance to Dream is no longer in print, but the paperback is available at retailers everywhere from Snowy Wings Publishing!